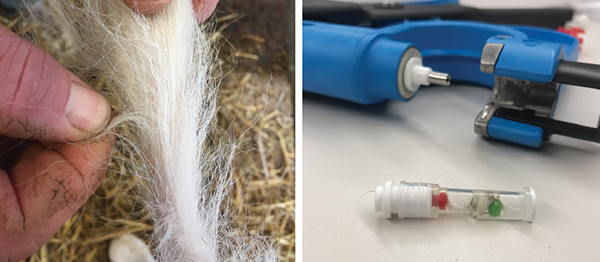 There are 2 simple ways to submit a sample for genotyping:
Tissue Sampling Unit
To collect a tissue sample, you will require an Allflex tissue applicator and a tissue sampling unit or TSU.
Using the applicator and TSU, you will collect sample directly from the ear.
Each TSU contains stabilization and transportation medium.
TSU's can be used to collect tissue samples for all animals regardless of age.
Click here to learn more about how to properly use tissue sampling units for genotyping.
If you would like to order tissue sampling units, order through our online store.
Hair
Comb or brush the tail area at the upper part of the switch to remove any foreign material. Dirty, contaminated samples will not be processed
If necessary, wash and rinse area with water and allow time to dry before taking samples
Use withers, topline, or ears as alternatives
Collect 35 to 50 hair roots/follicles to ensure better test results
Click here to read more about how to properly pull hair for genotyping.
Alternative Options
Blood
Blood is generally used for Freemartin testing
It is not recommended that blood be drawn from an animal that is under 6 weeks of age
Use a tube with a purple or green stopper
Bleed until tube is about 3/4 full
Keep sample from heating or freezing
Not available for purchase
Semen
This testing option is generally provided by AI units
Clearly mark the tube with name and registration number of sampled bull
Not available for purchase
Want to genotype your animal today?

Complete the Genotyping Request Form now.