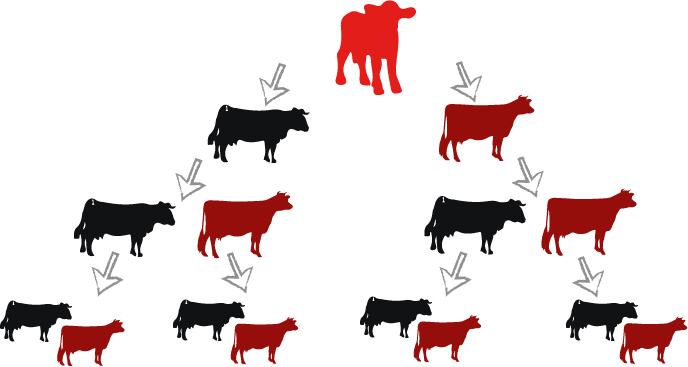 For customers looking to purchase pedigrees for animals, pedigrees are provided in both official languages, English and French, to be customer-friendly for both buyers and sellers.
4-Generation pedigrees are available to order at the following cost:

Electronic PDF $10
Hardcopy $12
A PDF copy will always be delivered to your e-Documents even if a hard copy is requested.
Online Pedigrees Available for Purchase
Using the animal search engine on Holstein Canada's front homepage called Animal Inquiry , the search function allows any visitor free of charge to select an animal and view the animal's Animal Information Sheet (AIS). When you click on the Order Pedigree button , you will be asked to provide a web account login and password. You can sign-up for a login account on our website or you can call our Holstein Canada Customer Service department at 1-855-756-8300 ext. 410.
For a selected animal, choose a pedigree type (domestic or international); language (French or English); and weight (kg or lb.). Multiple pedigree requests may be submitted in one order.
An automated system will process orders on 10-minute intervals and conduct data verification checks. Any request failing one or more data checks will be placed on hold until Holstein Canada staff can review and edit the data, typically within one business day. All requests passing the data verification process will automatically produce a pedigree document in PDF format sent to the client's personal message board.
The pedigrees in PDF format should be saved to your local PC, for copying to a breeder or industry website, e-mailing to interested buyers, or to keep for future printing.
The result is a verified, official 4-generation pedigree satisfying any sales opportunities in virtually real time!