In 2016, Holstein Canada Classifiers evaluated 258, 088 animals in Canada
Classification Makes Sense
Classification is a comprehensive evaluation of the physical structure of a dairy animal.
Here are reasons why YOU should be classifying today:
It is an important herd management tool which helps owners make improvements to the functional conformation of their dairy herds, with the objective of selecting for the cow's natural ability to produce higher volumes of milk over longer lifetimes.
In accordance with breed goals, the classification system aims to select cows with optimal workability: that are easy to work with, more resistant to breakdown or disease, trouble-free and lower maintenance.
The objective is to select for cows that can perform at higher levels with greater ease.
Classification is considered a small investment that makes a lot of economic sense for a successful dairy enterprise.
Classifying allows the herd owner to benchmark their cows in comparison to the national population and trends.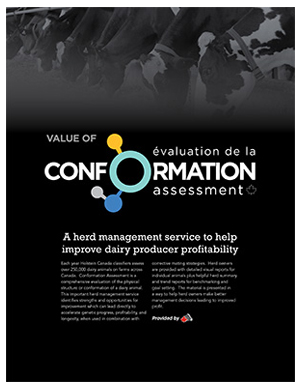 Click the image to read more
Low Cost Investment with a High Return
Classification is offered across Canada on a 8-month interval for a regular round.
The fees to classify are $75 for the herd visit fee and $11 per classified animal.
An optional mid-round classification service is available that requires an additional $100. Herds choosing the mid-round service receive a classification visit every 4 months. Large herds, progressive herds and merchandizing herds have all enjoyed having a more frequent classification visit for greater ease, efficiency and effectiveness for their operations and goals. Approximately 40% of herds subscribe to the mid-round service.
When a herd starts to classify, several methods of herd improvement are initiated. By utilizing the information to make more informed and profitable decisions, herd owners can appreciate the value of the service.
Benefits to Classifying your Animals:
Early culling tool that identifies problem cows
Insight into possible management changes
Consultation with an objective/unbiased expert who sees thousands of farms across Canada
Mating & Selective Tool

Select best cows in herd to develop
Select optimal sire to mate to each cow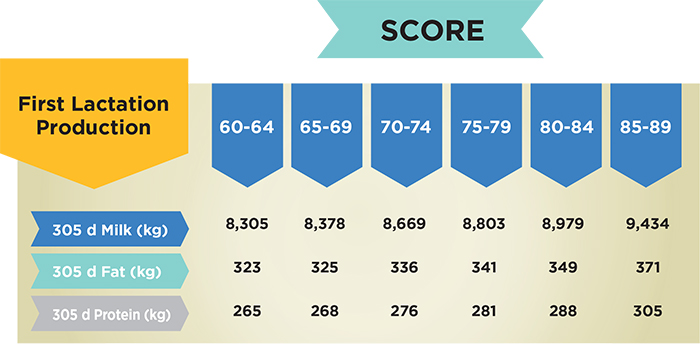 *Score is equal to fist lactation final score