Memo - Travel Surcharge
Due to the current economic environment, The Board of Directors of Holstein Canada approved a travel surcharge of $30 to each classification visit. This will be effective August 8th, 2022. As a national member organization, it is important to be fair and equitable across the country.
The travel surcharge is a temporary measure to address the high increase in national fuel costs and other travel related expenses since the beginning of this year. It will show as a separate line item on your invoice. The Association will continue to revisit the surcharge relative to the national cost of fuel and other travel costs.

In 2021, Holstein Canada classified 237,650 animals in Canada!
Classification Makes Sense
Classification is a comprehensive evaluation of the physical structure of a dairy animal.

Benefits to Classifying your Animals:
When a herd starts to classify, several methods of herd improvement are initiated. By utilizing the information to make more informed and profitable decisions, herd owners can appreciate the value of the service.
Early culling tool that identifies problem cows

Insight into possible management changes

Consultation with an objective/unbiased expert who sees thousands of farms across Canada

Benchmarking your herd against others

Mating & Selection Tool

Select the best cows in the herd to keep for next lactations, and to be the dams of your next generation of cows

Select the optimal sire to mate to each cow or group of cows
Low Cost Investment with a High Return – cows with better functional conformation do last longer and generate more income over their lifetime!
Classification

Herd Visit Fee

$125

Mid-Round Herd Visit Fee

$125

Per Classified Animal

$11
Classification is offered across Canada on a four or eight-month interval.

Large and progressive herds have all enjoyed having more frequent classification visits for greater ease, efficiency and effectiveness for their operations and goals. Several of them have fully incorporated their classification results into their mating program.

The fees to classify are $125 for the herd visit fee and an additional $11 per classified animal.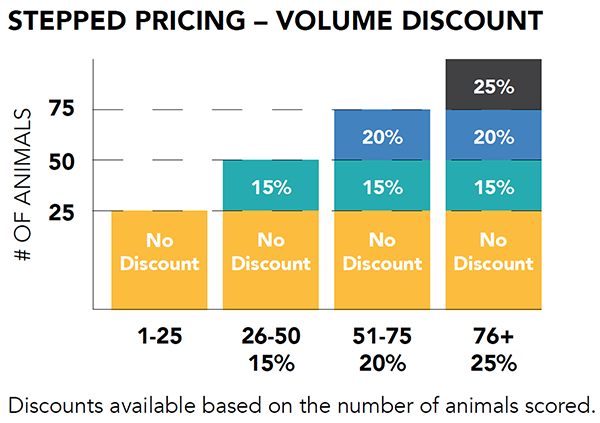 | | | | |
| --- | --- | --- | --- |
| Total Scored | Investment | Rebate | Investment after Rebate |
| 17 | $312 | $0.00 | $312.00 |
| 31 | $466 | $9.90 | $456.10 |
| 52 | $697 | $45.65 | $651.35 |
| 91 | $1,126 | $140.00 | $986.00 |
Reasons why YOU should be classifying today:
An important herd management tool which helps producers make improvements to the functional conformation of their dairy herds

In accordance with breed goals the classification system aims to select cows with optimal workability that are:

Objective of selecting for the cow's natural ability to produce higher volumes of milk over longer lifetimes.

Select cows that can perform at higher levels with greater ease.

Functional, trouble-free and more efficient

A small investment that makes a lot of economic sense for a successful dairy enterprise.

Select cows that can perform at higher levels with greater ease.

Allows the herd owner to benchmark their cows in comparison to the national population and trends.