Education Awards
Since the 1950s, Holstein Canada has played a role in applauding young adults in their higher educational successes. Each year, Holstein Canada recognizes and awards students who are well rounded in their farm involvement; work experience; youth program involvement; future career choices; and excel in their academic studies. Six (6) successful students from across Canada (one student from the west; two from Ontario; two from Quebec; and one from Atlantic Canada) will be awarded $1,000 each as recognition of their achievements.
Congratulations to the individuals chosen as the 2020 Education Award Winners!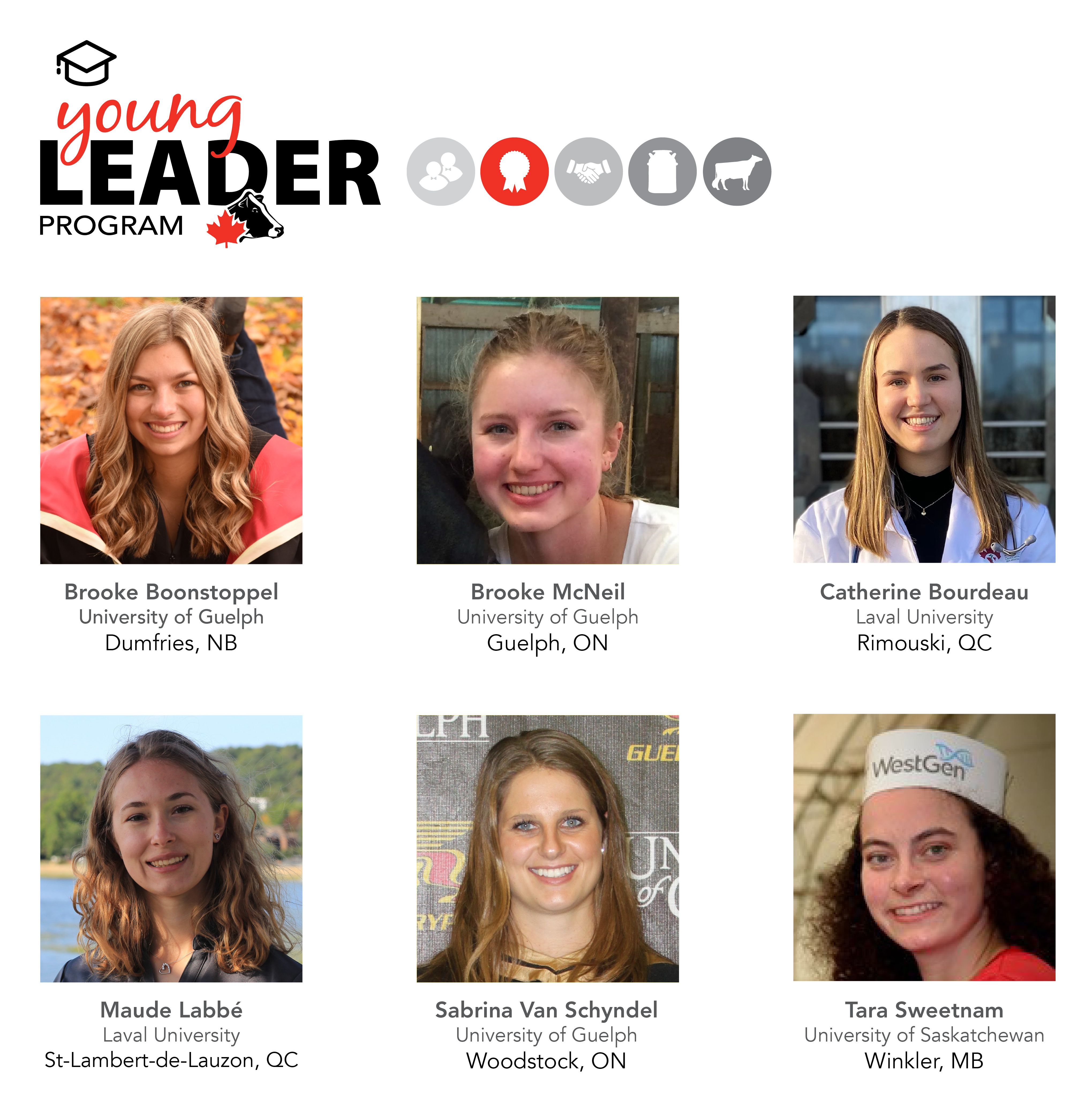 Want to see the Holstein Canada Education Winners? Click here!
The applicants are judged on the criteria asked, make sure to list all your accomplishments and involvement as it may help the selection in the event of a close decision.
Other accomplishments may influence the selection committee in the event of a close decision. Once the Young Leader Advisory Committee has selected the successful candidates, winners will be notified immediately upon the Committee's decision in December. A general announcement of the winners will be made through a media release and a feature of the winners in the March-April InfoHolstein publication.
Rules for the Education Awards:
Must be a regular or junior member of Holstein Canada, a son/daughter of a member; or a member-farm employee that is supported by their employer;
Must be enrolled and working in at least their first year of university/college (or Cégep in Québec);
Must submit an official, original transcript (faxed and photocopied submissions will not be accepted) and a copy of your resume, including reference letter;
You must submit your video or written essay on the following topic: What impact do you think the young leader program has for Holstein Canada?
You must complete the online application.
The scholarship application is available from January 1 to October 30. Click here to apply!
Bovine Medicine Awards
The award recognizes one student from each of the 4 Canadian Veterinary Colleges for their scholastic achievements in the sum of $1000 each.
Beginning in the early '80s, awards have been presented annually to one graduating student from each of the universities of Guelph, Ontario; Montréal, Québec; and Saskatoon, Saskatchewan. Proficiency in bovine medicine gains them each $400.00. The selections are made by the educational institutions and representatives of Holstein Canada present the cheques at convocation ceremonies.
In 1999, the University of Prince Edward Island in Charlottetown was added to the program. In 2013, the award sum was increased from $400 to $1000.
Congratulations to the individuals chosen as the 2019 Bovine Medicine Award Winners!
Dr. Samatha Pomroy
University of Prince Edward Island: Atlantic Veterinary College
Dr. Alexandra Gariépy
Université de Montréal Faculté de médecine vétérinaire
Dr. Alexandre Jalbert
University of Guelph / Ontario Veterinary College
Dr. Sydney Sprenger
University of Saskatchewan / Western College of Veterinary Medicine