Education Awards
Since the 1950s, Holstein Canada has played a role in applauding young adults in their higher educational successes. Each fall, six $1000 Education Awards are offered by Holstein Canada to be awarded to 1 person in Western Canada; 2 in Ontario; 2 in Quebec; and 1 person in Atlantic Canada. Education award applications become available each fall and are due in November.
Congratulations to the individuals chosen as the 2019 Education Award Winners!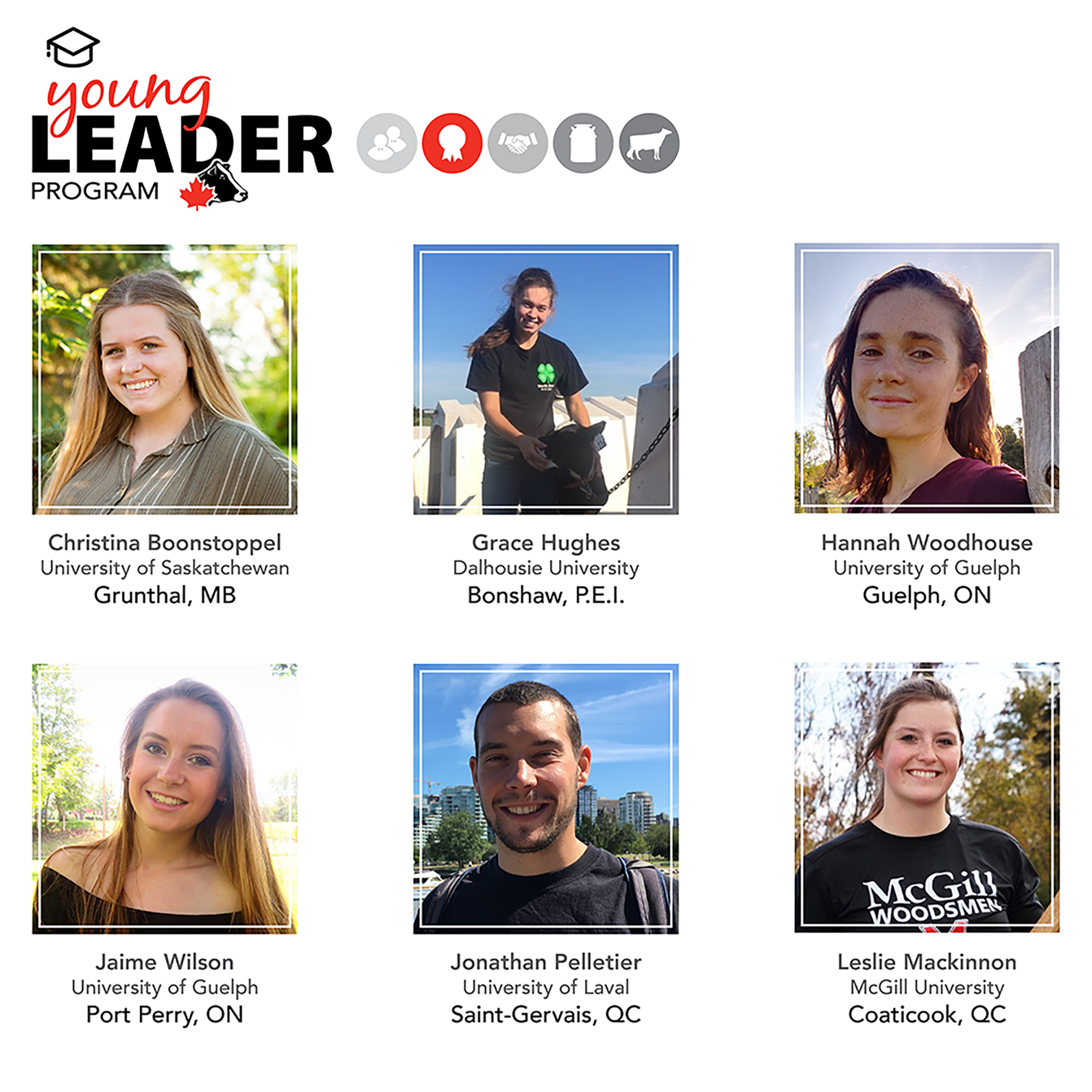 Want to see the Holstein Canada Education Winners? Click here!
The applicants are judged on the criteria asked, make sure to list all your accomplishments and involvement as it may help the selection in the event of a close decision.
Other accomplishments may influence the selection committee in the event of a close decision. Once the Young Leader Advisory Committee has selected the successful candidates, winners will be notified immediately upon the Committee's decision in December. A general announcement of the winners will be made through a media release and a feature of the winners in the March-April InfoHolstein publication.
Rules for the Education Awards:
Must be a regular or junior member of Holstein Canada, or a son/daughter of a member; or a member-farm employee that is supported by their employer.
Must have completed at least one year of university/college (or Cégep in Québec)
Must submit an official, original transcript (faxed and photocopied submissions will not be accepted) and a copy of your resume, including reference list
Must be returning to school within the calendar year
Applications can be completed through the fillable PDF, which can be emailed with accompanying documents to CTolhurst@holstein.ca, or your complete application package can be mailed to Christine Tolhurst, Programs Coordinator 20 Corporate Place Brantford, Ontario N3T 5R4
Bovine Medicine Awards
The award recognizes one student from each of the 4 Canadian Veterinary Colleges for their scholastic achievements in the sum of $1000 each.
Beginning in the early '80s, awards have been presented annually to one graduating student from each of the universities of Guelph, Ontario; Montréal, Québec; and Saskatoon, Saskatchewan. Proficiency in bovine medicine gains them each $400.00. The selections are made by the educational institutions and representatives of Holstein Canada present the cheques at convocation ceremonies.
In 1999, the University of Prince Edward Island in Charlottetown was added to the program. In 2013, the award sum was increased from $400 to $1000.
Congratulations to the individuals chosen as the 2018 Bovine Medicine Award Winners!
Dr. Kelsey Goodick
University of Prince Edward Island: Atlantic Veterinary College
Charlottetown, PEI
Dr. Laurence Leduc
University of Montréal: Faculty of Veterinary Medicine
St-Hyacinthe, Qc
Dr. Steven Elgersma
University of Guelph: Ontario Veterinary College
Guelph, ON
Dr. Rob Stevens
University of Saskatchewan: Western College of Veterinary Medicine
Saskatoon, SK