Want to genotype your animal today? Complete the Genotyping Request Form now.
Since genotyping became available with its introduction in 2009, over the past three years, several testing options have been made available mainly for purposes of obtaining genomic enhanced breeding values. Recently, genomic testing has become a cost effective option to confirm or discover parentage for national herdbook purposes in addition to increasing the accuracy of genetic evaluation.
What happens when a DNA sample for genotyping leaves the farm?
Check out the workflow below! (Click the image to enlarge)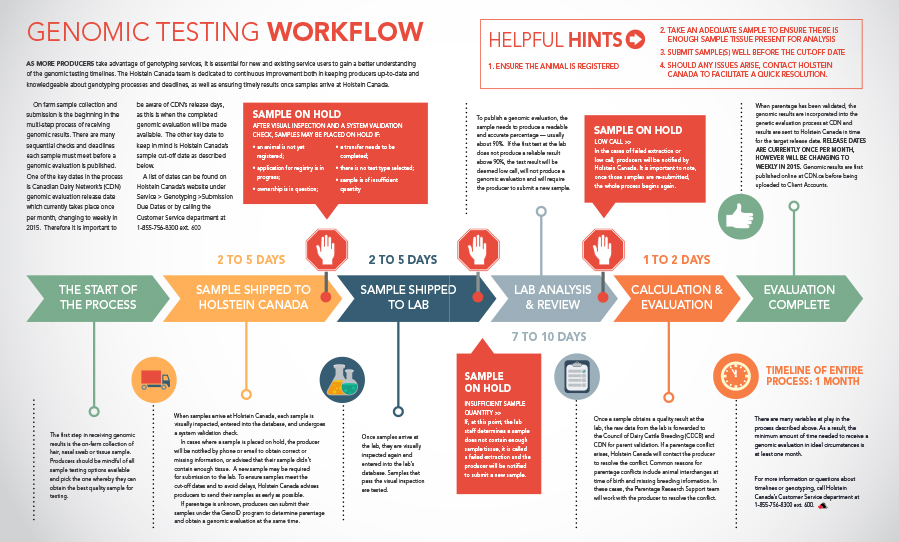 Parentage Verification
The Association should be informed of the need for parentage testing in situations where doubt may exist in regards to the parentage of a calf. Parentage verification requests will be sent to the owner, in situations where there is doubt as to the parentage, and lineage of a Holstein animal. It is important that owners use the forms provided to identify the animals being tested, and that these forms accompany the hair samples to Holstein Canada.
Microsatellite versus Genomics
Standardized testing is required for parentage verification to support Herdbook integrity. A micro satellite request can be upgraded to LD, LD plus, or MD testing for national purposes. Request micro satellite if genetics (semen/embryo/animal) are being exported. Micro satellite will continue to be required until iSAG approval and international acceptance on SNP parentage panel.
For Herdbook Integrity Purposes
Parentage Verification
Distribution of Costs for Testing
Who Pays
When Sire In Doubt
Two services by different bulls within 14 days
Owner pays
Two services by different bulls within a month, calf premature to second service
Owner pays
Dates of birth and service indicate a long or short gestation period requiring validation of the sire
Owner pays
When sire or dam in doubt
Miscommunication between breeding records and actual events -to solve identity problem
Owner pays
Multiple unsupervised calving around the same time, and same day
Owner pays
Males
Parentage verification is required for all males to be eligible for Registration
Owner pays
For Herdbook integrity purposes, the following spot checks are done:
Who Pays
Embryo Transfer
One (1) out of ten (10) random selection –to ensure the integrity of embryo records
Owner pays
Overage
One (1) out of ten (10) random selection –an accuracy check on an individual or group basis to ensure herd book integrity
Owner pays
Holstein Canada spot
One (1) out of a thousand (1,000) random selection –to ensure the integrity of the Herdbook
Holstein Canada pays
AI Service
All bulls for A.I. service require parentage verification
Owner pays
Donor Dam
All dams that have provided embryos require parentage verification
Owner pays

GenoID is a genomic (DNA) testing service available to Holstein breeders to discover parentage and provide a genetic evaluation. Genetic evaluations form the basis for many herd improvement decisions and accelerating genetic progress. GenoID will automatically register animals in the Holstein Canada Herdbook.
What information do you need to supply with the GenoID application?
Producers must first have a prefix and account setup with Holstein Canada. In order to get the full benefits of GenoID, information such as: NLID/ATQ tag number, herd management number and date of birth are required. See the GenoID application form below for a complete listing of information needed.
Geno ID Application
What are the benefits of GenoID?
One step process for genotyping and registering animals with accuracy
Provides a genomic and genetic evaluation
Better understand the genetic potential of animals in the herd
Ability to rank animals on genetic merit
Optimize mating decisions to accelerate genetic progress
Accurate way to manage inbreeding
A tool to select, market or cull animals
How does it work?
Producers need to complete a GenoID application form for each animal being tested. A DNA sample (tail hair) should be collected from the animal and submitted for genotyping.
The DNA samples are first inspected by Holstein Canada to help ensure there will be enough tissue for the laboratory process. Samples may still fail at the laboratory due to poor DNA quality and/or insufficient quantity.
You will be contacted by Holstein Canada staff if there are any concerns.
The process generally takes 4-6 weeks from the time the sample is received at Holstein Canada.
GenoID Fees: April 2020
Holstein Animals
Low Density Genotype Fee
Herdbook Registration Fee
Total Fee
Base Animals
$33
$4.50
$37.50
Regular Calf Under 3 Months Old
$33
$11
$44
Regular Calf Over 3 Months
$33
$31
$64
Embryo Transfer Calf Under 3 Months
$33
$21
$54
Embryo Transer Calf Over 3 Months
$33
$41
$74