Genotyping and Program Pricing
Since its introduction in 2009 genomic testing has proved itself an extremely valuable tool for breeders to use in their genetic planning. The ability to obtain highly accurate genomic enhanced breeding values at a young age, correct parentage errors, and gain more precise haplotype and recessive trait information has led to increased use of this beneficial solution.

Call us today to set up your own genetic plan including genomic testing to increase your farm's long-term profitability!
Why Genomic Test?
Genomic testing is a cost effective tool that provides accurate information for better breeding and culling decisions and quicker genetic progress. It also has an important role to confirm and discover parentage for the national Herdbook
To translate the genetics of an animal into an accurate performance prediction
Increased reliability at a young age compared to parent averages leading to more accurate decisions and fewer costly mistakes!
Use it to confirm or discover parentage!
Learn more about your herd's recessive traits
Accurate predictions, even for traits that are less heritable, like health and fertility traits
Precise information to enhance your genetic gain by selecting the best mating choices for your breeding animals.

Bundle and save!
Take advantage of special bundle pricing by registering and submitting your registered Holstein females for genomic testing before 3 months of age! When we receive samples at the office for your owned, registered Holstein females under 3 months of age and above base purity you will receive a discount of $4.50. That's registration and genomic testing for $40.00!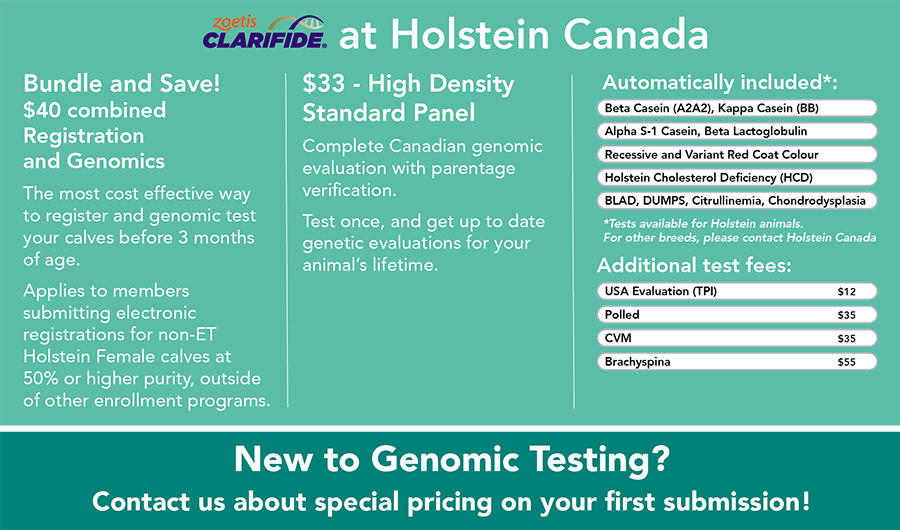 If you are a herd that is new to genomic testing at Holstein Canada (or an existing genomics client that needs some Catch-Up), capitalize on our Genomic Testing Catch-Up program. After arranging your enrolment with one of our staff, you get one month to submit as many genomic tests for your owned, registered, Holstein Females of any age above base purity and you will receive a $4.00 discount on all tests submitted while your catch-up window is active.
What happens when a DNA sample for genotyping leaves the farm?
Check out the workflow below! (Click the image to enlarge)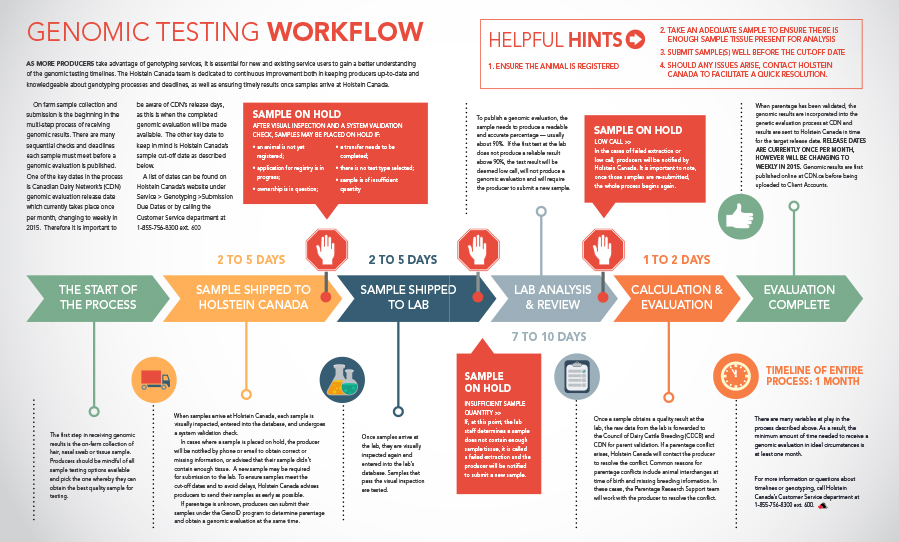 Parentage Verification
The Association should be informed of the need for parentage testing in situations where doubt may exist in regards to the parentage of a calf. Parentage verification requests will be sent to the owner, in situations where there is doubt as to the parentage, and lineage of a Holstein animal. It is important that owners use the forms provided to identify the animals being tested, and that these forms accompany the DNA samples to Holstein Canada.
Microsatellite versus Genomics
Standardized testing is required for parentage verification to support Herdbook integrity. Request micro satellite if genetics (semen/embryo/animal) are being exported. Micro satellite will continue to be required until iSAG approval and international acceptance on SNP parentage panel.
For Herdbook Integrity Purposes
Parentage Verification
Distribution of Costs for Testing
Who Pays
When Sire In Doubt
Two services by different bulls within 14 days
Owner pays
Two services by different bulls within a month, calf premature to second service
Owner pays
Dates of birth and service indicate a long or short gestation period requiring validation of the sire
Owner pays
When sire or dam in doubt
Miscommunication between breeding records and actual events -to solve identity problem
Owner pays
Multiple unsupervised calving around the same time, and same day
Owner pays
Males
Parentage verification is required for all males to be eligible for Registration
Owner pays
For Herdbook integrity purposes, the following spot checks are done:
Who Pays
Embryo Transfer
One (1) out of ten (10) random selection –to ensure the integrity of embryo records
Owner pays
Overage
One (1) out of ten (10) random selection –an accuracy check on an individual or group basis to ensure herd book integrity
Owner pays
AI Service
All bulls for A.I. service require parentage verification
Owner pays
Donor Dam
All dams that have provided embryos require parentage verification
Owner pays
Base Genomic Testing Fees: May 2023
Holstein Animals
Genotype Fee
Herdbook Registration Fee
Total Fee
Base Animals
$33
$5.00
$38.00
Regular Calf Under 3 Months Old
*$33
$11.50
$40 (*Bundle)
Regular Calf Over 3 Months
$33
$31.50
$64.50
Embryo Transfer Calf Under 3 Months
$33
$21.50
$54.50
Embryo Transer Calf Over 3 Months
$33
$41.50
$74.50