Since 1995, Holstein Canada's annual Cow of the Year competition aims to recognize elite Canadian cows that have had an impact both domestically and internationally and have been enjoyed by Canadian producers. These animals could be a bull dam; a brood cow; a high or consistent milk producer; a show winner; a high-index animal; or a top cow in another country.

The 2021 edition of the competition comes with a wind of change. In an effort to uncover fantastic cows that may be hidden in Canadian barns, the committee has compiled a list of criteria that cows eligible for nomination must meet:
2021 Cow of the Year Nominating Eligibility Criteria:
Cow must be Canadian-bred;
Cow must be active in the award year in-milk; natural or ET offspring born; or embryo recovery and must have been alive within the past three (3) years.
Cow must have produced 80,000 kg of milk or more and above 3200 kg of fat
Cow must be classified at least 92 points
Cows must have been awarded a minimum of 3 stars
Maximum of four (4) finalists will be chosen
Holstein Canada's Herdbook system generated a list of cows that met this criteria. The owners of those cows, or breeders in the case of animals no longer in Canada, were all contacted by Holstein Canada at the beginning of the year to invite them to officially submit the application for their animal for the Cow of the year competition. Only cows appearing on the list could be entered. From submitted nominations, the Holstein Canada Cow of the Year committee selects four Canadian-bred finalists. Nominees are narrowed to four based on animals that showcase longevity, production, genetic merit, strength of pedigree; and are great Ambassadors of Canadian genetics.

The Cow of the Year is announced at Holstein Canada's Annual Meeting. The 2021 winner will be announced at the 2022 National Holstein Convention in Saskatoon, Saskatchewan.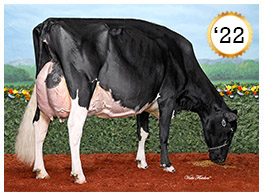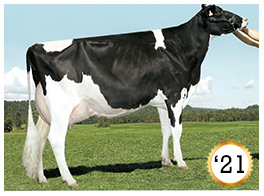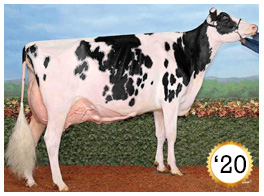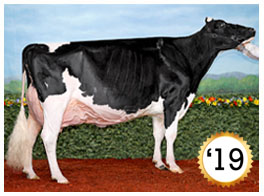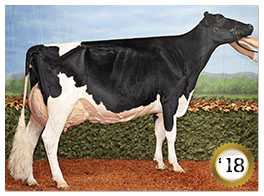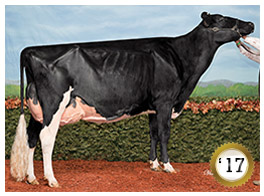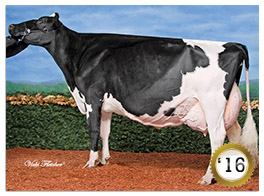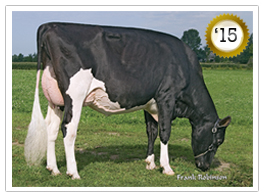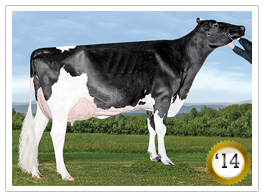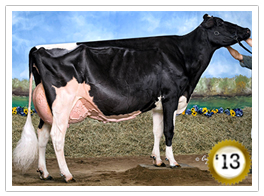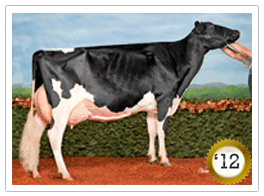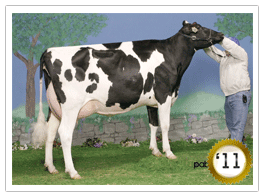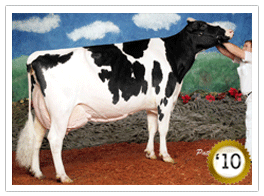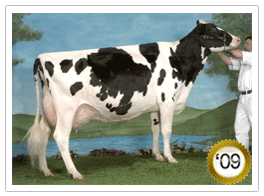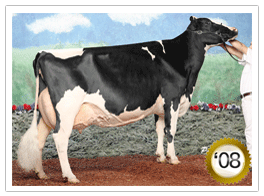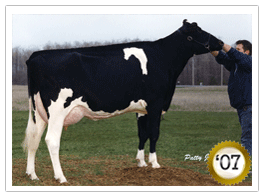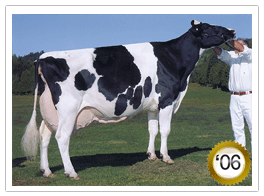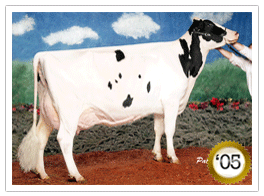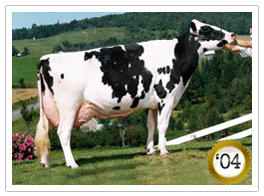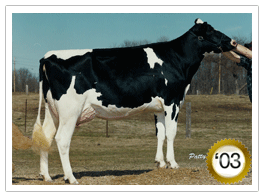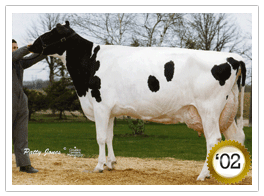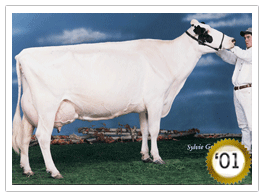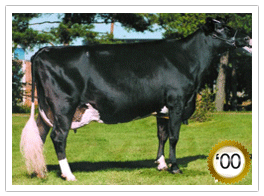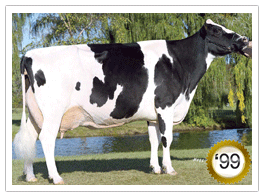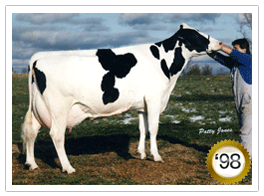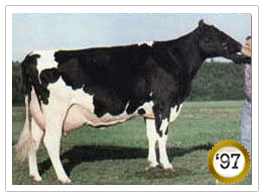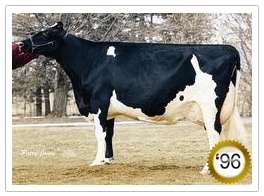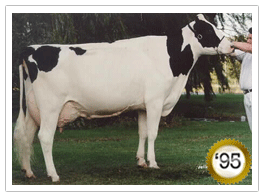 2022 - Comestar Lamadona Doorman EX-94-2E-CAN 22*
Breeder-Owner : Comestar Holsteins, Victoriaville, Qc
Best 305 : 5yr 4th lact. 305d 22,383Kg 4.8%F 3.6%P
Lifetime : 4 Lact. 83,839 Kg 4.7%F 3.8%P 380-478-440
4 Superior Lactactions (2-3-4-5-Yrs) • 1 Super 4

Expectations were high for Lamadona right from birth. The cross between her sire - a promising young genomic bull named Doorman at the time, and her dam - Comestar Lautamai Man O Man VG-87 18*, an interesting young cow who had just been sold in the Sale of Stars the previous Fall, made her a breeders' dream. Just like most animals with the Comestar prefix, the famous Laurie Sheik VG-88 23*, Cow of the Year in 1995, can be found a few generations further down Lamadona's pedigree.

It didn't take this finalist very long to prove herself! She won her first Show Class as a Summer Yearling at the Expo-Printemps du Québec in the Spring of 2014. With her many nominations over the course of her career; Reserve or All-Canadian, All-American, All-Québec and All-Ontario, she clearly demonstrates her predisposition for Shows.

Not only an icon of beauty, Lamadona also exceeded all expectations when she calved for the first time. At just 2 years old, she produced 14,455 kg of milk at 4.8% fat and 3.8% protein, earning her 1st Superior Lactation – a recognition she earned for each of her lactations. In terms of conformation, she had nothing to be jealous of; classifying VG-89 at 2 years old with only 74 days in milk, to then become EX-94 at her 3rd calving.

It remained to be seen as to whether or not she passed this on to her o  spring. Again, Lamadona checked the box! Her many daughters, all classified GP or better, have proven to be beautiful and productive! Lamadona produced more than 200 embryos during her life, many of which were exported to Europe and Japan. Today, her grandsons and greatgrandsons; Comestar Lemagic VG-87, Comestar Lamorrey, Comestar Loyall, Comestar Latoya and Comestar Barlot, to name a few, are all found in AI, and are about to mark the breed.

Lamadona is an exceptional cow who wonderfully represents Comestar's philosophy of "Logical and balanced breeding".
2021- Paquet Kolya Goldwyn EX-92-4E 24*
Breeder-Owner : Paquet & Frères, Amqui, Qc
Best 305 : 5 Yrs (3rd) 23,070 kg, 3,9%F, 3.0%P
Lifetime : 7 lactations, 167,261 kg, 4.2%F, 3.2% P
Longtime production award 140 000 kg, 5 Superior Lactations, 1 Super 4

Kolya is an exceptional cow that dominates with her impressive production and her ability to pass on her qualities to her offspring. She has been the Paquet family's favorite for a very long time and her lineage perpetuates this feeling from the pleasure breeders feel when working with her progeny. From a young age, Kolya stood out among her peers. As a heifer, she distinguished herself in a few local and regional shows before being classified VG-87 after her first calving. Now at 14 years old and scored 94 points, this Goldwyn daughter has produced over 167,000 kg of milk for a total of over 6,959 kg of fat and 5,390 kg of protein. More than half of the Paquet herd comes from Kolya and, an interesting fact that makes her breeders proud, is that her entire maternal line also carries the Paquet prefix.

The Paquets own all of Kolya's daughters so all of her 120 points that award her 24* came from their herd! Kolya's 22 milking daughters are not only beautiful, they are extremely productive! Together they have 25 superior lactations and have produced over 1,237,000 kg of milk to date! Like their matriarch, many are still in production, so these numbers are likely to increase a lot. Kolya is an all-around outstanding cow with a proven track record. She is a model of efficiency and proudly deserve the Cow of the Year title.
2020 - Idee Windbrook Lynzi EX-95-2E 1*
Breeder: Idee Holsteins , Hunter River, PE
Owner: Richard W. & Shannon Allyn, Frank A. & Diane Borba, JM Valley Holstein, Stephane Gendreau, Amqui, Qc
Best 305 : 5 Yr (4th Lact) 13,560 kg, 4.5% Fat, 3.2% Protein
Lifetime: 5 lactations, 66,591 kg, 4.5% Fat, 3.4% Protein
Longtime production award 60,000 kg, Grand Champion RAWF (2019), All-Canadian 5-Yr-Old 2019, HM. Grand RAWF (2017), INT. Gr. Champion RAWF (2017), All-Canadian JR.3-Yr-Old (2017)

Idee Windbrook Lynzi is an exceptional cow who, from an early age, has made a name for herself in the judging arenas. Although she comes from a well-known family that has caused a sensation at the biggest shows - including Idee Lustre - Lynzi has made her own mark and will undoubtedly leave a deep impression on the Holstein breed. With 57,161 kg of milk and over 2,500 kg of fat produced in only four lactations, Lynzi proves that she is not only a beauty queen - she earns her spot in the barn! This Windbrook daughter is just like the Canadian Holstein: excellent conformation and high production.

Winner of several titles, including Supreme Grand Champion at the 2019 Royal Winter Fair, she is also known for passing on excellent genetics. Lynzi has 21 daughters despite her consecutive show appearances every year. Lynzi's daughters have inherited their dam's femininity and presence. Six of her daughters are now classified and they are all VG at their first calving. Several offspring are still to be born, confirming a glorious and promising future for Lynzi's proud owners!
2019 - Loyalyn Goldwyn June EX-97-5E-CAN 1* (0/8)
Breeder: Rob & Alice Bumstead (LOYALYN), Owensound, ON
Owner: Pierre Boulet (PIERSTEIN), Montmagny, QC
Best 305 : 9 Yr (6th Lact) 25,343 kg, 4.5% Fat, 3.7% Protein
Lifetime: 7 lactations, 116,402 kg, 4.4% Fat, 3.5% Protein
Longtime Production Award 80,000kg (2017), 2 Superior Lactations, HM Grand Royal 2015, 1st Longtime Production Award RAWF (2016, 2014), All-Canadian Longtime Production 2016, Reserve Canadian Longtime Production 2018, Reserve All-Canadian Mature Cow 2014, Reserve All-American Mature Cow 2014

Loyalyn Goldwyn June is an example of the true Canadian Kind. She is one of 12 animals (eight Holsteins, three Jerseys, and one Brown Swiss) to be awarded a Classification score of 97 points, the highest score ever handed out.

June has earned several show titles, including Supreme Champion at the Quebec Spring Show (2018 & 2019) and Long-Time Production Class winner three times at the RAWF. June's seven lactations with a lifetime production of 116,402 kg prove that she has the goods in both the show ring and the barn.

June's longevity, classification, and production success have continued through her daughters and granddaughters. June has 13 daughters, all classified 85 or higher (2 EX) and 28 granddaughters who all scored 83 or higher. June's 97 point Classification score comes easily to her with a breakdown of Mammary System score 97 (FA:9 RAH:9 RAW:9), Feet & Legs score of 97, Dairy Strength score of 97 and Rump score of 94. For over 13 years, June's longevity, production, and show results are remarkable, and she is bound to leave a legacy as the matriarch behind one of the great Holstein families.
2018 - Boulet Goldwyn Chalou EX-96-3E-CAN 16* (0/80)
Breeder: Ferme Boulet, St. François de la Rivière du Sud, QC
Owner: Ferme Boulet and Ferme Vilmer, St. François de la Rivière du Sud, QC
Best 305 : 7 yr. 16,875 kg M 862 kg F 5.1% 545 kg P 3.2% BCA 335-468-343
Lifetime: 5 lacts. 91,781 kg M 4,451 kg F 4.8% 3,197 kg P 3.5% BCA 302-363-306
Longtime Production Award (80000), 2 Superior Lactations, HM. All-Canadian Mature Cow 2014 and 2012, Reserve All-Quebec Mature Cow 2012

Boulet Goldwyn Chalou brings all the great Goldwyn daughter traits to the table. She's a beautifully built cow that's easy to milk, and who's staying young despite her 12 years in the barn. Her dam, Boulet Lheros Chaly, had 23 star broods and gave 116 embryos and undoubtedly passed on those great genes to her daughter. Chalou is a descendant of the very first cow that Boulet farm bought, back in 1960.

She was the first EX 96 for Boulet, and earned her 16th star brood in August 2018. Her daughters' statistics are the proof that Chalou has acted as the starting point for an unstoppable cow family. She has contributed 80 embryos, has 8 EX daughters, 22 VG and 7 GP. Her daughters have a fat percentage average of 4.1%.

Chalou has backed up the claim that she is a great milker with 2 Superior Lactation Awards and 2 Longtime Production Awards, the latest for reaching 80,000 kg, over her 5 lactations. She produced up to an incredible 5.3% Fat, and had a deviation of +200 for fat in her best lactation. But it doesn't stop there, she boasts a score of 96 for Rump, Feet & Legs and Mammary System: all traits that she has passed on to her covetable daughters. This admirable conformation has no doubt helped her in the show ring too. She earned an Honorable Mention for All-Canadian Mature Cow in 2012 and 2014, and won Reserve All-Quebec Mature Cow 2012. She was named 2nd Mature Cow at the World Dairy Expo in 2012 and 3rd again in 2014.

This cow has shown through her awards, lactation records, and progeny data that she is a very well-rounded animal: she rakes in show prizes all while significantly contributing to the milk tank. Her owners believe that she has too many qualities to list, and she is the pride of the herd.
2017 - Jacobs Goldwyn Britany EX-96-2E-CAN 6* (0/32)
Breeder and Owner: Ferme Jacobs Inc., Cap Santé, Quebec
Best 305: 6yr. 17,310 kg M 688 kg Fat 4.0% 529 kg P 3.1% BCA 333-360-327
Lifetime: 4 lacts. 61,062 kg M 2,502 kg F 4.1% 2,033 kg P 3.3% BCA 281-307-291
3 Superior Lactations, Reserve All-Canadian Four-Year-Old 2011, Nominated All-Quebec Mature Cow 2013
Jacobs Goldwyn Britany is undeniably a founding pillar of the herd at Ferme Jacobs. Completing seven generations of Very Good or Excellent at EX-96, Britany is an outstanding cow that has proven she can excel both in the show ring and in the barn. She has also solidified herself as an exceptional brood cow by proving her own incredible transmission power.
Britany is a well-known name in the show ring and has accumulated many show accolades over the years. Included in those accomplishments are: a Grand Champion title at the Quebec Spring Show in 2011, a first-place finish in the Four-Year-Old class at the Royal that same year, and capping the year off being named Reserve All-Canadian and Reserve All-Quebec Four-Year-Old.
Adding to her show ring success, Britany has been a hard worker in the barn as well. With a lifetime milk production of over 61,000 kg in four lactations, she has earned three Superior Lactation awards. Just like their mother, her 17 classified daughters are following in her footsteps as 100% of them are scored Good Plus or better with an average production of 13,867 kg of milk with 4.1% fat, 3.1% protein and an average BCA of 262- 292-261. Also a prolific flush cow, Britany has 83 registered progeny here in Canada and has sold numerous embryos all over the world.
Britany is an exceptional balance of high-production and show type. Her uncanny ability to pass on her best qualities to her daughters and their many descendants has ensured that she has left her mark on the breed nationally and internationally. Britany is a true ambassador for Canadian Holsteins and her legacy will continue to grow for years to come!
2016 - Kingsway Terrason Allie EX-95-2E-CAN 3*(11/17)
Breeder(s) Kingsway Farms, Hastings, Ont.
Owner(s) Trent Valley Holsteins, Peterborough, Ont.; Mell-Wood Holsteins and Steve & Todd Mell, Waunakee, WI, USA
Best 305 6yr. 15,339 kg M 704 kg F 4.6% 507 kg P 3.3%
Lifetime 4 lacts. 63,005 kg M 2,762 kg F 4.4% 2,176 kg P 3.4% Average BCA 249-291-259
2 Superior Lactations
Named Reserve All-Canadian Senior Three-Year-Old in 2006, Kingsway Terrason Allie has not only left her mark in the show ring, but her incredible influence can also been seen through the accomplishments of her many descendants around the world.
Over the years, Allie stood atop her respective classes each show season. She earned a number of Grand, Reserve and Honourable Mention titles throughout her show career that began as an Intermediate Calf and concluded as a Mature Cow. In addition to her show ring achievements, Allie also proved herself in the barn earning two Superior Lactation awards and a Longtime Production award.
Even more impressive than her own accomplishments has been her inherent ability to pass on her exceptional qualities. Allie's progeny are winning competitive shows worldwide, and consistently genomic testing higher than parent average. To date, Allie and her descendants have combined for 41 national nominations and have earned Kingsway three Premier Breeder titles at the Royal. Allie's granddaughter, Kingsway Sanchez Arangatang, has been nominated All-Canadian four times and is the dam of the #1 type heifer in the United Kingdom. Another granddaughter, Knowlesmere Goldwyn Abrakaboom was named Grand Champion of Dairy Day in the UK, while her great granddaughter, Kingsway Sanchez Armadillo was sixth five-year-old at the 2016 World Dairy Expo, in addition to being one of Canada's few fourth-generation nominated All-Canadians.
Kingsway Terrason Allie is a cow that has proven her ability to breed true with many outstanding descendants excelling in show rings and barns around the world. As a result, this cow has truly left her trademark "Allie Stamp" on the Holstein breed, both here in Canada and abroad.
2015 - Val-Bisson Goldwyn Maya VG-88-6YR-CAN 28* (3/137)
Breeders: Ferme Val-Bisson Inc, St. Polycarpe, Que.
Owners: Ferme Val-Bisson Inc, St. Polycarpe, Que.
Best 305: 2yr. 11,067 kg M 456 kg F 4.1% 374 kg P 3.4% BCA 285-317-302 Dev. +44 +64 +54
Lifetime: 2 lacts. 46,450 kg M 1,932 kg F 4.2% 1,717 kg P 3.7% Average BCA 286-299-305
1 Superior Lactations
Val-Bisson Goldwyn Maya is an exceptional brood cow. At almost 10 years old, Maya has attained 28* brood status and with more young daughters still to calve, her star count is sure to increase even more.
Currently Maya has over 60 registered daughters by 19 different sires and out of her 42 classified daughters, 29 are VG – 17 VG as two-year-olds – and 13 are GP, all the while, producing an average of 14,556 kg of milk with 4.1% fat and 3.3% protein. In addition to her daughters, her son, Val-Bisson Morning was recently awarded Superior Type status.
Maya has several notable daughters who prove her ability to transmit her superior qualities to the next generation. Val-Bisson Alexander Indira VG-88-3YR-CAN 1* was sold in the Sale of Stars and has several daughters throughout Ontario. Val-Bisson Shottle Imelda VG-89-4YR-CAN 2* has six sons in AI, including the renowned Val-Bisson Doorman. She was also the fourth place Four-Year-Old at Expo-Printemps in 2014. Another daughter, Val-Bisson Contrast Illarante VG-89-2YR-USA, now owned by Milk Source, is perhaps the best known of a group of five sisters scoring VG at two-yearolds. Val-Bisson Windbroo Icecream VG-87-2YR-CAN, one of the herd favourites, is +16 for conformation, ranking her amongst the 25 best of the breed.
Maya's granddaughter, Val-Bisson Meridian Doriane VG-88-2YR-CAN owned by Ferme Blondin was the third place Milking Yearling at the RAWF Holstein Show and was named Honourable Mention All-Canadian Milking Yearling in 2014. Additionally, she has served as the worldwide poster girl for Semex. Maya is appreciated by many breeders and her daughters can be found in nearly 20 herds. Through Morning and Doorman, Maya will surely leave a lasting impression on the breed!
2014 - Belfast M Goldwyn Shelly EX-92-CAN 15* (0/76)
Breeders: Belfast Holstein Enr., St. Patrice, QC & Ferme Maryclerc Inc., Ste. Claire, QC
Owners: Donnanview Farms Ltd., Stirling, ON & Arcadia Farms, Codrington, ON
Best 305: 7yr. 14,624 kg M 651 kg F 4.5% 495 kg P 3.4% BCA 292-354-313 Dev. +46 +95 +69
Lifetime: 3 lacts. 57,739 kg M 2,515 kg F 4.4% 1,990 kg P 3.4% Average BCA 303-351-319
2 Superior Lactations
A powerful symbol of everything that is right with Canadian Holsteins, Belfast M Goldwyn Shelly is more than a pretty face. She scored VG-87 as a two-year-old and went on to score EX-92 at seven-years-old while also being recognized for two Superior Lactations.
Shelly is one of only two Goldwyn daughters with 15 or more stars, proving her ability to transmit her exceptional qualities. Her numerous offspring are spread all around the world helping to put her stamp on the Holstein breed. 35 of her first 45 milking daughters are scored VG as two-year-olds, and even more impressive is the fact that they are sired by 14 different sires. The influence of this impressive Goldwyn daughter is also shown through her male offspring. Shelly has sons in AI units in different parts of the world, as well as here in Canada.
To say she is a prolific embryo producer would be an understatement. To date, Shelly has produced 285 viable embryos, and demand for her genetics internationally has led to the export of over 100 of her embryos to five different countries.
Envisioning the ultimate reflection of all qualities Canadian Holstein breeders seek in a cow, the mirror would be placed in front of Belfast Goldwyn M Shelly. She exemplifies what Canadian Holsteins show the world – style, strength and profitability.
2013 - Rainyridge Talent Barbara EX-95-5yr-USA 3* (4/12)
Breeders: Ronald Boerchers, Laurier, MB; Fred Fornwald & Sons Farms Ltd., Carlyle, SK; Lakefield Farm, Petersfield, MB; Dr. Quinn Gavaga, Cache Creek, BC
Owners: River Valley Dairy LLC, Tremont, IL
Best 305: 3yr. 13,762 kg M 500 kg F 3.6% 443 kg P 3.2% BCA 308-298-303 Dev. +111 +110 +105
Lifetime: 3 Lacts. 45,920 kg M 1,770 kg F 3.9% 1,478 kg P 3.2% Average BCA 288-297-286
1 Superior Lactation, All-Canadian and All-American 5-Yr-Old 2010 and Honourable Mention All-American Mature Cow 2011
Rainyridge Talent Barbara is the epitome of the true Canadian Holstein and has taken the show, production and genomic world by storm. Following her first-place finishes at the RAWF and WDE, this RDC Talent daughter was the Unanimous All-Canadian and All-American 5-Yr-Old in 2010. It was then that "Barbara Fever" set in throughout the Holstein world.
This fourth generation EX and great-granddaughter of Rainyridge Tony Beauty has proven that she too possesses the ability to transmit her exceptional genetics to her progeny. Her daughters topped three different sales and now her granddaughters continue to top sales at record prices. Barbara currently has 10 milking daughters – nine of them are already scored VG! Like their dam, her daughters combine fantastic conformation with superior production and have already earned Barbara 3* brood status to date.
She has not only left her mark in the show ring, Barbara's influence has also been noted in the genomic index world. Currently, her granddaughter, Calbrett Supersire Barb, is the number one GLPI and GTPI Red Carrier heifer in the world with a number of other granddaughters found at the top of the red carrier lists as well. Barbara's sons, Rainyridge Barnie and Hylite Barbwire are the former number one RDC type bull and R&W type bull respectively. Both bulls have sired numerous show winners at R&W shows across the US and Canada.
Barbara is the ideal balance of show type, superior production and high genomic values. She is a true ambassador for Canadian Holsteins and there is no sign of "Barbara Fever" breaking anytime soon!
2012 - Eastside Lewisdale Gold Missy EX-95-CAN
Breeder: Eastside Holsteins, Frenchford, PE and Lewisdale Holsteins, York, PE
Owners: Morsan Farms Ltd, Ponoka, AB; Van Ruinen Dairy Ltd, Lacombe, AB; Mark Butz, Cedar Rapids, IA; and Gert Andreasen, Ponoka, AB
Best 305: 5yr. 16,208 kg M 678 kg F 4.2% 514 kg P 3.2% BCAs 318-363-323 Dev. +69 +106 +73
Lifetime: 3 lacts. 48,379 kg M 2,146 kg F 4.4% 1,592 kg P 3.3% Average BCAs 306-363-310
1 Super 3, 3 Superior Lactations, Grand Champion & Supreme Champion Royal Agricultural Winter Fair and World Dairy Expo 2011, All-Canadian and All-American Five-Year-Old 2011
The name Missy is synonymous in the show ring and in promoting the Holstein breed across Canada and around the world. Branded the 'Million Dollar cow', Eastside Lewisdale Gold Missy excels in the five pillars of the breed: production, conformation, longevity, ability to transmit, and marketability. Eastern-Canadian bred, Western-Canadian owned, Missy is praised for her lengthy frame, incredible dairy strength, and tremendous mammary system.
A daughter of 2011 Cow of the Year finalist, Stadacona Outside Abel (VG-88-4yr 29*), Missy has remained unbeaten in the show ring in milking form. In 2011, she was named Grand Champion and Supreme Champion at both World Dairy Expo and the Royal Agricultural Winter Fair. This adds to her plethora of awards including unanimous All-Canadian and All-American Junior 2-Year-Old and Five-Year-Old and nominated All-American Junior Three-Year-Old.
With many young daughters, four daughters are already classified VG-89, VG-87, VG-86, VG-85—all scored VG as two year olds. Missy has 29 sons, 7 who are in A.I., and she also has a great-grandson by Supersire who has a GTPI of 2665. Gaining a lot of attention is Missy's Numero Uno daughter Morsan Miss Alined who as of December had a 2933 GLPI, 2428 GTPI with a 3061 DGV and four points for type. The ability to breed true and transmit is something Missy and family members excel at especially in the field of genomics where 56 Missy descendants are over 2500 GLPI and 31 are over 2300 GTPI. While Missy will be remembered as one of the most complete Holsteins ever bred, there is only one crown Missy has yet to wear— the title of Cow of the Year.
2011 - Gillette Blitz 2nd Wind VG-88-3yr-CAN 34* (5/166)
Breeder: Ferme Gillette Inc., Embrun, ON
Owners: Ferme Gillette Inc., Embrun, ON; T-Wave Holsteins, Hokkaido, Japan
Best 305: 2yr. 15,004 kg M 535 kg F 3.6% 449 kg P 3.0% BCAs 372-354-348 Dev. +123 +115 +105
Lifetime: 2 lacts: 31,317 kg M 1,231 kg F 3.9% 981 kg P 3.1% Average BCAs 372-354-348
1 Superior Lactation, 2nd Jr. 3-Yr.-Old Québec Spring Show 2005
Gillette Blitz 2nd Wind has made a profound impact on not only the Gillette herd, but on the Holstein breed itself. Most recognizable for her ability to transmit, 2nd Wind has become an influential bull mother. She is the dam of five Class Extra sires including Gillette Windbrook, Gillette Windhammer, Gillette Stanleycup, Gillette Wildthing, and Gillette Willrock. These five sires were among the top 30 in the December 2011 LPI listing with Stanleycup and Windhammer — identical split embryo Bolton sons — ranking as the number one conformation sires at +19. In Japan, where 2nd Wind is owned with T-Wave Holsteins, she has three active proven sons who are extremely popular among breeders.
2nd Wind also has a number of chart-topping daughters and granddaughters including the well-known Gillette Bolton 2nd Sleep (VG-89-4yr) — a former #1 GLPI cow and now #8 GLPI cow from December 2011. This Bolton daughter not only possesses the same show-winning style as her dam, but has proven to continue on the family art of successful breeding as her daughter, Gillette S Planet 2nd Snooze (VG-86-2yr), is the #2 GLPI cow in December 2011.
2nd Wind also boasts a tremendous pedigree tracing back two generations to the 2003 Cow of the Year — Braedale Gypsy Grand (VG-88-5yr 37*). She has provided Gillette with a strong partnership with her co-owners and her presence will continue to be felt worldwide, as she continues to appear in a large percentage of the pedigrees around the world.
2010 - Lindenoord Rudolph Lilac EX-96-3E 8* (11/30)
Breeder: Lindenoord Holsteins, Heatherton, NS
Owners: Ferme Rolandale Enr., Saint-Flavien, Qc
Best 305: 8yr. 15,443 kg M 556 kg F 3.6% 478 kg P 3.1% BCAs 314 307 306 Dev. +99 +91 +87
Lifetime: 5 lacts. 83,607 kg M 3,032 kg F 3.6% 2,676 kg P 3.2% Average BCAs 282 275 279
1 Super 3, 3 Superior Lactations HM AA 4-yr.-old, HM AC and All-Québec Sr. 3-yr.-old, 4-yr.-old, 5-yr.-old AC Mature Cow
Lilac has blossomed into a family treasure. Originally purchased as a 2-year-old show cow, it was discovered that her extended family was well established in Europe, particularly Ireland. More than a beautiful, All-Canadian veteran, she has become a prolific brood cow, counting 3 EX and 7 young VG among her numerous, stylish, female offspring—already included are 4 Star Broods. Classified high are Jolibois Luann Jolt (EX-92 3E), Jolibois Lauriane Skychief (EX-91 2E), and Jolibois Lola Gibson (EX-90).
One of Rudolph's best scored daughters worldwide, Lilac projects a perfect udder and an amazing set of feet/legs. These are two of the qualities sought by copious buyers of embryos from Lilac, her daughters, and granddaughters. Epitomizing breeding consistency, her first granddaughter to classify EX-92 is Jolibois Love Dundee.
Lilac's production credentials have also added to her wide national and international appeal with over 80,000 kg and elite production awards in five lactations. Thirteen daughters have a ME average of 12,491 kg milk, 3.7% fat, and 3.1% protein.
The Rolland Dubois family is delighted with its show ring favourite as breeding credentials intensify and represent the real Canadian kind.
2009 -Blondin Skychief Supra EX-93-3E-CAN 15* (12/67)e
Breeder: Ferme Blondin, (Simon Lalande), Saint-Placide, Qc
Owners: Ferme Blondin and Pierre Boulet, Montmagny, Qc
Best 305: 9yr. 17,354 kg M 710 kg F 4.1% 525 kg P 3.0% BCAs 355 397 339 Dev. +119 +127 +88
Lifetime: 6 lacts: 119,657 kg M 4,630 kg F 3.9% 4,062 kg P 3.4% Average BCAs 276 268 273
1 Superior Lactation
Skychief Supra is the backbone of the Blondin herd—over 50% of total numbers.
In 2000 and 2001, Skychief Supra was Grand Champion at the Papineau and Berthier shows, respectively. Top conformation traits have been transmitted to 46 daughters, rating 96% GP and better. Their MEs are 12,968 kg milk, 3.9% fat, and 3.2% protein.
One Superior Lactation daughter, James Supra (EX-90 7*), has 52,500 kg milk, 2,443 kg fat, and 1,912 kg protein in three lactations. This cow, with 2 EX and 4 VG daughters, was also nominated All-Canadian as a Sr. 2-Yr.-Old in 2002 and Reserve All-Canadian 4-Yr.-Old in 2004. A second daughter, R Marker Supra (VG-89-3yr 1*), was 5th Jr. 2-Yr.-Old at the Royal in 2003 and has yielded over 24,000 kg in two lactations. Among 17 daughters, 13 are VG.
With 14+ daughters yet to calve, as well as unborn embryos, Skychief Supra's importance as a brood cow will increase. At 15 years old, she is still producing embryos. Healthy and a delight to work with, Supra possesses all the qualities expected from Canada's balanced breeding philosophy.
2008 -Despointes James Sydney EX-94-CAN 4* (0/23)
Breeder and Owner: Gaetan Brunelle, Sainte-Sophie d'Halifax, Qc
Best 305: 5yr. 13,183 kg M 436 kg F 3.3% 410 kg P 3.1% BCAs 263 236 258
Lifetime: 4 lacts: 69,115 kg M 2,329 kg F 3.4% 2,228 kg P 3.2% Average BCAs 254 232 249
2003 AC 3-Yr.-Old; 2005 Res. AC 5-Yr.-Old
One word describes Sydney's career-remarkable.
She has exceptional conformation, as her results have proven. In 2003, she was Grand Champion at the Royal. Following this victory, Sydney was unanimously nominated All-Canadian. All at once, a very brisk market erupted. France, Germany, the US, and Japan were all interested in this elite show cow's embryos.
Sydney has a strong, 4-generation VG or EX pedigree with 10 Stars. As well as transmitting conformation traits in an incredible way, she also passes on production to progeny. From 11 Canadian daughters, 10 are VG and one is EX USA; six went VG in first lactation. They average 12,068 kg milk, 3.4% fat, and 3.0% protein. These outstanding females have also proven to be healthy #1 embryo producers for other destinations ­-Argentina, Australia, and Ireland.
Sydney has 2 EX and 2 VG sons with others waiting proofs at St. Jacobs, Genervations, Excalibur, and Semex. Therefore, 100% of classified progeny are VG or EX! Many more chapters have yet to be written about the life of the remarkable Sydney.
2007 -Braedale Baler Twine VG-86-2yr-CAN 20* (22/78)
Breeder: Braedale Holsteins, Cumberland, ON
Owners: Syndicat Gén-I-Beq, St-Patrice, Qc
Best 305: 2yr. 12,096 kg M 591 kg F 4.9% 402 kg P 3.3% BCAs 299 397 314
Lifetime: 1 lact. 27,051 kg M 1,359 kg F 5.0% 1,005 kg P 3.7%Average BCAs 299 397 314
1 Superior Lactation
Baler Twine—a winning ambassador in all fields and 2007 International Cow of Year finalist!Baler Twine has 25+ sons in AI—the most remarkable include Class EXTRA Goldwyn ('05) and Pagewire ('07). A former #1 LPI son, Goldwyn will have his own page in history with 2,271 LPI and 83% of daughters GP and better.
The performance of Baler Twine and her progeny have already had an incredible impact on the Holstein breed worldwide. This remarkable foundation cow has 15 VG daughters, of which 10 are bull dams. Also included is the 2007 Reserve All-Canadian Junior 3-yr.-old daughter, Gen-I-Beq Champion Bally (VG-89).
A daughter of 2003 Cow of the Year Gypsy Grand (VG-88 37*), Baler Twine perpetuates the Canadian balanced breeding tradition. If we measure a cow by her legacy and improvement of the breed, as well as personal accomplishments, Baler Twine has a golden spot in Holstein paradise.
2006 -Dreane Astre Inksou EX-96-3E-CAN 1*(0/9)
Breeder: André Picard, St–Remi de Tingwick, Qc
Owners: David Crack, Richmond, Qc
Best 305: 9yr. 15,507 kg M 548 kg F 3.5% 479 kg P 3.1% BCAs 320 310 313
Lifetime:
5 lacts. 105,145 kg M 3,874 kg F 3.7%
3 Superior Lactations
Dreane Astre Inksou, the first Canadian cow to score 96 points, is celebrated worldwide. She is nominated Holstein International's Global Cow of 2006.
This is how Inksou breeds: Seven of 7 daughters—EX-90, VG-88, VG-87 (1st calf), VG-87 (1st calf), VG-86 (1st calf), VG-86 (1st calf), and GP-82 (1st calf). They average, in 305 days, 12,479 kg milk, 436 kg fat, and 338 kg protein. BCAs are 235, 223, 231.
At one fair, her daughters were 1st and 2nd 2-Yr.-Olds, 1st and best udder 4-Yr.-Old, Home-bred Champion, 1st Progeny of Dam, and 1st Breeder's Herd. Inksou was Grand Champion at 11 years old. Grand Champion at numerous shows, Inksou won her class at the Royal twice. She was nominated All-Canadian 2-Yr.-Old, Reserve All-Canadian and All-American 4-Yr.-Old, All-Canadian Aged Cow in 2001, and nominated All-Canadian in '02, '04, and '05. Without doubt, Inksou exhibits longevity at its best.
2005 -Quality B C FrantiscoEX-96-2E-CAN
Breeder and owner: Quality Holsteins (Paul and Ari Ekstein), Woodbridge, ON
Best 305: 3 yr. 13,797 kg M 791 kg F 5.7% 441 kg P 3.2% BCAs 292 457 294
Lifetime: 4 lacts. 57,547 kg M 2,989 kg F 5.2% 2,015 kg P 3.5% Lifetime BCAs 246 342 260
2 Superior Lactations
Frantisco has done it again! After leading shows in 2005, she clinched, for the second time, Supreme Champion at the great Royal Agricultural Winter Fair.
When onlookers view this great cow in the barn and at shows, they say Frantisco has never looked better. And with the pedigree she has it's no wonder; her breeding reads like a who's who. First dam, A Plushanski Francisco ET (VG 7 Star), by Hanoverhill Starbuck, has five EX daughters and three EX sons. The next dam is A Plushanski Valiant Fran (EX 35 Star), and the next dam is named Plushanski Chief Faith (EX-94).
Since last year, Frantisco has had 3 milking daughters classify VG at 2 years, which produce extremely well. Her first two AI sons classified are Quality Fruror (VG at 2 years) and Quality Fabulous (EX-93 at 3 years). Fabulous's show-type calves sell at a premium whenever merchandized. In our lifetime association with the Holstein breed there has never been a better cow we have seen or been associated with.
2004 -Fortale Stella Lindy EX-2E-CAN 10*(5/45)
Breeder and Owner: Ferme Fortale enr., (Yves and Dominic Fortier) Arthabaska, Qc
Best 305:
Lifetime: 7 yr. 14,925 kg M 658 kg F 491 kg P BCAs 273 329 291
1 Superior lactation
Fortale Stella Lindy depicts the Canadian breeding philosophy. Blending conformation, production, and breeding, she is the complete cow. A pleasure to work with, Stella transmits exceptional udders, longevity, and production.
A sixth generation EX or VG with multiple Stars, she was nominated All-Canadian in 1996 and '97, and All-American in '97, plus other numerous championships.
To date, she has five EX daughters; two are multiple EX. The 3-E Astre daughter, Patricia (3*), Reserve All-Québec in '99 and 2002, has six VG daughters; one was first Senior 2-Year-Old at the 2004 Victoriaville Show.
Stella's VG-86 Rudolph daughter, Lonni, has two sons in AI and a daughter under contract. At the international level, four Lonni daughters in Belgium, producing 12,000 kg records, give the Fortale herd international exposure. There are already 11 VG granddaughters of Stella and 60% of the herd, with great udders, originates from her. Stella is the ideal Canadian cow and an excellent candidate to represent Canadian dairymen in the Cow of the Year competition.
2003 -Braedale Gypsy Grand VG-88-5yr-CAN 27*(0/137)
Breeder and Owner: Braedale Holsteins, (Terry Beaton)Cumberland, ON
Best 305: 5 yr. 13,945 kg M 665 kg F 436 kg BCAs: 266 345 266
Lifetime: 2 lacts. 52,798 kg M 2,575 kg F 1,913 kg P Lifetime BCAs 290 364 296 +80 +150 +81
2 Superior lactations
Gypsy Grand's 89% reliable indexes of +131 F, +0.69% F, +59 P, and +13 Conf. rank her in the top of the breed; LPI is +2244/99%. Also, her pedigree has 71 Stars within three generations. Her 39 daughters are 2 EX, 11 VG, 22 GP, and 4 G. BCAs average 264, 286, 269, and BCA deviations are +30, +50, +32; LPIs average +1,848 (99%).
Gypsy Grand leads the breed with 13 daughters on the top 1000 LPI Cow List. Additionally, there are three VG-86-2yr granddaughters—# 26 LPI, #53 LPI, and 2002 HM All-Canadian Jr. 2-Year-Old. Of her first nine Canadian proven sons, five are Extra and one is SP. These nine average LPI +1,508 (95% Rk), M +1,473, F +81 kg, +0.28, P +51kg, +0.02%, and Conformation +9
Her elite LPI (Nov. 2003) progeny, including Freelance Extra (#2), Good Luck Extra (#12), River (#71), Cheetah EX 2* (#36), Second Cut VG-2yr (#49), Ault EX (#77), and Bulk Tank VG-2yr (#89) make her a global ambassador for Canadian balanced breeding.
2002 -Quality Astre Felice EX-CAN 3*(8/7)
Breeder and Owner Quality Holsteins, Woodbridge, ON
Best 305: 4 yr. (3X) 15,710 kg M 491 kg F 484 kg P
BCAs: 330 274 314
Lifetime: 4 lacts. 56,234 kg M 1,801 kg F 1,827 kg P
2 Superior Production awards
Felice, from Canada's highest star brood family, represents Canadian breeding in its truest form. Classifying Excellent with superior lactations, she was Reserve All-Canadian in 1995 and '96. Progeny classify 3 EX, 9 VG, and 2 GP. We feel her daughters, averaging +18 milk, +6 fat, and +19 protein, will, with maturity, classify EX, as they thrive for numerous lactations.
With the emergence of son Sky Fame (EX) as one of the breed's most popular young sires, and AI's continued interest in future male calves, Felice's influence will be felt for generations to come as she continues on a flush program.
An attraction for every international visitor to our farm, Felice is admired worldwide as no other cow we've ever owned. Felice is everything we respect in a Holstein ambassador--outstanding pedigree, show-winning conformation, superior production, quality offspring, longevity, and show achievements. She makes Canadian Holstein breeders proud!
2001- Crasdale Rock n Roll EX-CAN-5E
Breeder and Owner: Crasdale Farms, South Rustico, PE
Best 305: 5 yr. 14,993 kg M 465 kg F 455 kg P
BCAs: 5yr. 300 251 288
Lifetime: 7 lact. 84,842 kg M 2,862 kg F 2,646 kg P
3 Superior Production awards
Crasdale Rock n Roll completes four generations of VG and EX with great production. As well, Rock has been a terrific cow for reproduction and longevity. She has calved consistently at 2-0, 2-11, 4-0, 4-10, 5-10, and 6-11, before starting a flush program, and again at 9-6 (photo at 10 yrs.).
Rock's show performance includes many championships, three All-Canadian nominations, and the All-time/All-Atlantic award. The impact this cow, the youngest to classify 4E, will have on the breed has only just begun. Her milking progeny are already classified 4 VG and 5 GP (all first lactations). She has bred great production as well with a daughter and granddaughter, both over 13,500 kg milk.
In 2001, eight daughters and three granddaughters hit the show circuit and all placed in the top 10; five were nominated for All-Atlantic. Several winners and first Junior and Senior Breeder's Herds came from this group. We feel Rock's contribution of pedigree, performance, production, and progeny makes her the all-round Canadian kind of cow, and worthy of Cow of 2001.
2000 - Gillette Blackstar Christiane VG-88-4yr-Can 8 Star (11/40)
Breeder and Owner: Ferme Gillette inc., Embrun, ON
Best 305 3X: 4 yr. 15,026 kg M 594 kg F 492 kg P
BCAs 4 yr: 309 332 320
Lifetime: 3 lacts. 84,380 kg M 3,322 kg F 2,916 kg P
8 Superior Production awards
To speak of Canadian Holsteins is to celebrate the complete cow--one exemplifying balanced breeding for which Canada is famed.
Third-generation Very Good or Excellent, over 84,000 kg in three lactations, and determined survivor of a '94 barn fire is testimony to the miracle cow, Gillette Blackstar Christiane. She blends beauty, utility, and longevity into one totally appreciated package. She models her offspring in a similarly valuable and successful fashion, and has produced over 350 embryos, to date, in demand around the world.
The Jed calf she carried through the flames, grew up to be Triumphant, tied as Canada's No. 1 type bull with +15 in May 2000.
Eight Very Good daughters average over 330 composite BCA. Christiane's Very Good, Design daughter, Gillette D Carmelleen, nominated All-Ontario Junior Yearling in '98, produced the fourth All-Time Canadian Champion production record for a two-year-old with BCAs of 417, 412, and 424. Gillette Blackstar Christiane is like a dream--a real Canadian Holstein.
1999 - Rainyridge Tony Beauty EX-5E 1*(8/0)
Breeder: Ronald Boerchers, Laurier, MB
Owners: Ray Brown, Vista MB; Stanhope Dairy Farm Ltd., Victoria, BC; Wedgwood Holsteins, Cobble Hill, BC
Best 305: 10 yr 10,985 kg M 376 kg F 341 kg P
BCAs: 228 213 223
Lifetime: 7 lacts. 75,831 kg M 2,472 kg F 2,449 kg P
Rainyridge Tony Beauty, Excellent five times, and a One Star Brood cow has achieved what no other cow has. She made Supreme Champion at World Dairy Expo in 1995 as the oldest Holstein ever to win this title. At that time, she had enjoyed a long and illustrious career winning many shows in western Canada, and was Grand Champion at the Royal in 1993. Beauty was All-Canadian Mature Cow in '92, '93, and '95, and All-American Aged Cow in 1992 and 1995.
Throughout her career as a show cow, Beauty has been a consistently good producer, always well over herd average and producing over 75,000 kg in seven lactations. She has bred four VG daughters and one EX son to date, also having three sons in AI. Her offspring are in the UK, Ireland, Japan, Brazil, US, and Canada.
In 1999, Beauty made a remarkable return to the show ring at over 14 years of age and eight calvings. She was Grand Champion at the US Western National, Supreme Champion at World Dairy Expo, Reserve Grand Champion at the Royal Agricultural Winter Fair, All-Canadian, and nominated All-American.
1998 - Sunnylodge Prelude Spottie VG-87-3yr 13*(14/64)
Breeder and Owner Sunnylodge Farms Inc., Chesterville, ON
Best 305: 3 yr 12,083 kg M 480 kg F 417 kg P
BCAs: 261 281 280
Lifetime: 2 lacts. 26,780 kg M 1,101 kg F 947 kg P
4 Superior Production awards
Spottie is the perfect cow. As the sixth generation VG or EX, she combines type, production, longevity, and reproduction. Her sons, daughters, and 150 embryos have been sold throughout Canada and the world.
Spottie's 13 AI sons include the top conformation sire in Canada, Sunnylodge Linjet (EX, ST). Also, Sunnylodge Spirte, a SP sire with +8 type has been returned to service.
Her daughters' classifications are 1 EX, 9 VG, 11 GP, and 1 G with 7 classifying VG as 2-year-olds. Their average BCA is M244, F262, and P257. Combined, her daughters have 21 Superior Production records with 20 sons entering AI. Her first four granddaughters are 2 VG and 2 GP.
Spottie represents the true Canadian cow through balanced breeding. Her sons and daughters are doing exceptionally well for both breeders and AI in Canada and around the world. Spottie represents Canada well, and will have a positive impact on the breed for many years to come.Mark and Carl Smith
1997 - Loubel Jubilant Siliva ET EX 1*
Breeder and Owner: Loubel Holsteins inc., St-Boniface, Qc
Best 305: 4 yr 18,298 kg M 797 kg F 702 kg P
BCAs: 346 403 420
Lifetime: 3 lacts. 38,492 kg M 1,714 kg F 1,483 kg P
8 Superior Production awards, 1 Honour List award, former Canadian Protein Champion
Siliva is the perfect cow! She is part of three generations of Ex or VG. Her dam is VG87 with 12 stars, and her granddam is EX 2E-USA with four stars.
Siliva is a perfect illustration of Canadian genetics. She was the first Excellent daughter of "Jubilant". She was also Canadian Champion for protein in 1995.
The finalist is 62 inches tall with great strength and an exceptional udder. She has several Superior Production awards with very high fat and protein.
Siliva transmits a lot of genetics. She has 18 daughters, including two VG and one GP with Superior Production records. She has 8 sons, including 1 EX, "Loubel Tradition" (soon to be proven at CIAQ), two VG, and two GP.
For the past two years, Siliva has been under embryo contract with the best Canadian bulls for Japan. More than 200 embryos have been sold to this, and many other countries. So that, to us, is the perfect cow!
1996 - Dupasquier Starb Winnie 3E 8*
Breeder and Breeder: Oscar Dupasquier, Guelph, ON
Best 305: 6 yr 13,327 kg M 533 kg F 409 kg P
BCAs: 262 283 253
Lifetime: 5 lacts. 82,935 kg M 3,373 kg F 2,749 kg P
2 Superior Production and 80,000 kg Longtime awards
To thousands of international visitors in recent years, a powerful black cow stands out as Canada's best known. Winnie embodies the Canadian kind. She is arguably the best daughter of the breed's greatest sire and from a strong family with an All-Canadian granddam. A proven brood cow, Winnie has 12 sons in AI. Many outstanding daughters remain in the herd, and many others have been sold internationally. She's the cornerstone of our herd's success.
During her nine-year show career, Winnie has set the standard by which all others will be compared. Her most memorable moments include Grand Champion at the Royal ('91) and World Dairy Expo ('94). She was nominated All-Canadian a record nine straight years and was three times All-Canadian, Reserve, and All-American. She and her daughter, Blac Winne, are the only dam and daughter to be Grand and Junior Champions at the Royal in the same year. Her Boulet Charles daughters stood 1st and 2nd in one class at the '96 Royal.
Winnie is respected by breeders around the world as a complete Holstein package--a brood cow with longevity, high production, and exceptional type.
1995 - Comestar Laurie Sheik ET VG 5*
Breeder and Owner: Marc Comtois, Victoriaville, Qc
Best 305:2 yr 305 2x 9,734 kg M 418 kg F 326 kg P BCAs 235 277 252
4 yr 305 2x 10,332 kg M 439 kg F 358 kg P BCAs 205 236 225
6 yr 305 2x 12,046 kg M 531 kg F 398 kg P BCAs 229 270 238
2 Superior Production awards
Laurie Sheik already has quite a reputation through her All-Canadian, All-American and Tout-Québec (All-Quebec) nominations, her high production and her LPI (+1584). Her 5 VG daughters at 2 years old are known for their successes at shows, high production, and sales records. Laurie Sheik and her daughters have gained the respect of breeders and Canadian and international AI centers.
In '95, Laurie Sheik again confirmed her breeding quality in proving 3 sons (out of 3) of the best Canadian bulls. One of these, Comestar Leader (EX), has become a Canadian and international star. This year, 3 of Laurie Sheik and "Lindy's" sons have been accepted into AI centers.
Laurie Sheik's offspring have contributed to her 5 stars. Furthermore, 40 points went toward Comestar's new Master Breeder award.
In Laurie Sheik's words, "At 9 years of age, I am still ready for this new challenge. I am proud to have contributed to the development of the Canadian Holstein Breed."