Holstein Canada has three (3) convenient payment options:
Online Banking
The online banking option is available through your financial institution. You simply need to set up Holstein Association of Canada as a "Payee". Since each institution has a different online banking system, please contact your bank for support. Here are some pictures with the required information to help you with your financial online banking set-up.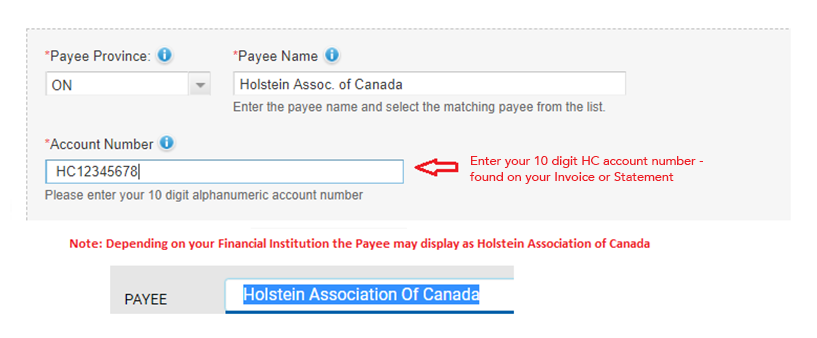 Credit Card
Credit card payments from Visa, MasterCard or Amex are accepted. You can submit your payments by credit card three (3) different ways:
Online through your Holstein Canada Account.
Call customer service at 1-855-756-8300 (press option "4") to place a payment over the phone.
Complete and submit the bottom portion of your statement with your credit card info. You can submit by mail or fax, although we recommend mailing to ensure privacy of your data.
An added convenience for credit card users. You can request to set up automatic monthly payments with your credit card. Holstein Canada will only process the balance owing on your account at the end of the month on your credit card. Contact customer service to request automatic monthly credit card payment - 1-855-756-8300 (press option "4") or email CustomerService@holstein.ca
Cheque
Holstein Canada continues to accept and process cheques. Please ensure the cheques are signed and made payable to Holstein Canada. Simply fill out the bottom portion of your statement and mail the cheque and statement slip to:

Holstein Canada
20 Corporate Place, P.O Box 610,
Brantford, Ontario
N3T 5R4