It's with great pride that the committee and the Holstein breeder from the Montreal region invited the Holstein Canada members to participate in their National Convention. The breeders from the Montreal area will welcome you from April 12th to 15th 2023, at the Sheraton Center, with an awesome program!

It's under the theme A Legendary Experience than the program, split on three days will celebrate the best of the Canadian Holsteins.

The first day of the convention will bring you to Victoriaville for the Quebec Spring show where you will see an exciting show where the best exhibitors in the country will show. Because Montreal is hockey, this special day will be prolonged to the Bell Center for the last game of the season of the Canadien where the Habs will face their legendary rivals: The Boston Bruins. It is a day you don't want to miss!

The next day, on the farm tour where you will have the opportunity to visit some of the best managed herds in the Quebec south-west, you will be able to see yourself as the legendary dynamist of our breeders. This day will follow up with an exciting event where the Tim Brink band will play music live to make you dance and move!

The day of the 15th, the Holstein Canada annual general meeting will give the chance to the members to be informed about the move done during the year from their representative, to give their opinion about the direction of their association and to be participating in the debates surrounding the resolutions proposed by the members.

By rewarding the recipients of the most prestigious honorary title of the association during the Master Breeders Gala, Holstein Canada will make legends of nearly 20 member farms by recognizing their perseverance and their accomplishments.

It is therefore a cordial invitation extended to you from April 12 to 15 at the Sheraton Center in Montreal for the 2023 Holstein Canada National Convention. Be there, and you can expect a legendary experience!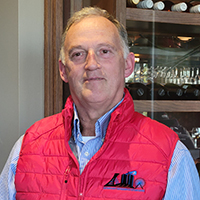 Louis St-Aubin,
Chairman, 2023 National Holstein Convention
Schedule
WEDNESDAY, APRIL 12
Welcome Cocktail, Sheraton Centre Montreal Hotel
THURSDAY, APRIL 13
Quebec Spring Show, Victoriaville
Bell Centre, Montreal Canadiens VS Boston Bruins
FRIDAY, APRIL 14
Farm Tour
Alternate Tour: Montreal's Botanical Garden and Biodome, La Grande Roue de Montréal
Evening Party: 100% Montreal
SATURDAY, APRIL 15
Breakfast, Courtesy of Holstein Canada
Holstein Canada Annual General Meeting
Master Breeder Gala